The launch of the next FIFA game – FIFA 22  – is on the horizon and eager gamers certainly have the popular EA Sports title on their wishlist.
The coronavirus pandemic delayed the launch of last year's edition, but there are no delays expected for the release of the new version of the football game.
In this article, we will take a look at things such as the FIFA 22 release dates, how much it costs to buy, the consoles it is playable on, player ratings and more.
When will FIFA 22 be released?
FIFA 22 will be released on October 1, 2021 , following the trend of every FIFA edition since FIFA Football 2003 released either in the last week of September or the first week of October.
For most of the past few years, FIFA has been released in late September, but this was pushed back to early October for FIFA 21 due to the coronavirus pandemic.
There are no major delays expected this year, so it will be released on October 1, with the game available on September 27 to those who pre-order the Ultimate Edition.
The trailer for the game was launched on July 11, showing the new features and graphics as well as revealing this year's cover star.
What is the price of FIFA 22?
| Console | Standard | Ultimate |
| --- | --- | --- |
| PS4 & PS5  | £59.99 / $59.99 | £89.99 / $99.99 |
| Xbox One & Xbox Series-X | £59.99 / $59.99 | £89.99 / $99.99 |
| PC | £54.99 / $59.99 | £79.99 / $99.99 |
| Google Stadia | TBC | TBC |
| Nintendo Switch | £44.99 / $49.99 | – |
This year, the standard edition of FIFA 22 will cost  £59.99  in the UK, $59.99 in the US and Ghc 364 in Ghana (if converted). Prices have remained the same as last year, while EA Play subscribers can save 10 per cent if they pre-order.
As well as the standard edition, EA Sports releases special versions of the game which have additional content such as extra packs, kits, items and players for FIFA Ultimate Team and Volta.
The special versions are more expensive than the standard edition and are available in both physical copy and download version. This year, there is only an Ultimate Edition of the game with the Champions Edition being discontinued for FIFA 22.
The Ultimate Edition is  priced at £89.99 and $99.99 on the Xbox and Playstation official stores.
Which consoles will FIFA 22 be out on?
FIFA 22 will be released on next gen consoles PlayStation 5, Xbox Series X/S, as well as Windows, PlayStation 4 and Xbox One.
EA Sports had a Dual Entitlement offer for FIFA 21 which allowed users to upgrade their PS4 copy to PS5 or Xbox One copy to Xbox Series X/S at no additional cost. This offer has return for FIFA 22 as many gamers may buy the game before getting a new console as a present during the 2021 holiday period. However, the Dual Entitlement offer is only available to people who have pre-ordered the Ultimate Edition.
The Nintendo Switch version of FIFA in recent years has been a squad update rather than a new game and it is possible that this 'Legacy Edition' version may be the case again for FIFA 22.
Google Stadia, which was launched in 2019, did not have FIFA 20, but FIFA 21 was available to play on the new platform. This will continue for FIFA 22.
When can I pre-order FIFA 22?
Fans of FIFA are able to pre-order FIFA 22 from now until the game's release date in October and will be able to play the game from September 27 as a result.
Pre-ordering has additional benefits, such as lower prices as well as extra game content, like free players and loan players in Ultimate Team, as well as additional FUT packs and Volta content.
The Ultimate Edition is available for pre-order on all consoles.
What new features will FIFA 22 have?
Next Gen
The PlayStation 5 and Xbox Series X/S versions of FIFA 22 include "groundbreaking new HyperMotion gameplay technology."
This uses advanced 11 vs 11 match capture, a first for FIFA, which means player and ball movement will be much more dynamic than ever before and better replicate real-life situations.
FIFA 22 includes over 4,000 new animations "to raise the footballing intensity, responsiveness, and physicality of every player in the game."
Career Mode improvements
Career Mode is one of the main parts of the game which gamers want to see updated.
FIFA 21 added the 'Quick Sim' option where you could jump in and out of matches, while the Active Training System made player development much more dynamic.
Improved AI and transfer options also made the game more lifelike, but there are still demands for further improvements in FIFA 22.
Fans have speculated about the addition of an Online Career Mode, but there has been no official confirmation of this yet.
Gameplay
Each year, EA Sports adds new gameplay improvements on top of the graphic changes.
FIFA 22 will see HyperMotion technology added to the PS5 and Xbox Series X editions, with 'Tactical AI' improvements in store as well.
Other gameplay improvements include Kinetic Air Battles, Composed Ball Control and increased humanisation.
New Icons
There were over 100 icons in the last edition of FIFA and more will be added to FIFA 22.
EA Sports confirmed that Robin van Persie, Cafu and Iker Casillas will be new Icons on the game, with more set to be confirmed.
A good indicator of which icons will be added is the list of legendary players from FIFA Online, which included Van Persie and Casillas.
The following players were added to FIFA Online 4 and therefore could be added to FIFA 22:
Gabriel Batistuta
Lucio
Park Ji-Sung
Jaap Stam
Cha Bum-kun
Diego Forlan
Wesley Sneidjer
As well as these, new FUT Heroes have been added with "unique league-specific chemistry which is tied to their specific hero moment, providing a green Club link to any player within the same league as well as the usual nation link, giving you new ways to build your dream squad and recreate some of football's most famous moments in FUT 22."
So far, players such as Jorge Campos, Diego Milito, Mario Gomez and Robbie Keane have been confirmed as FUT Heroes.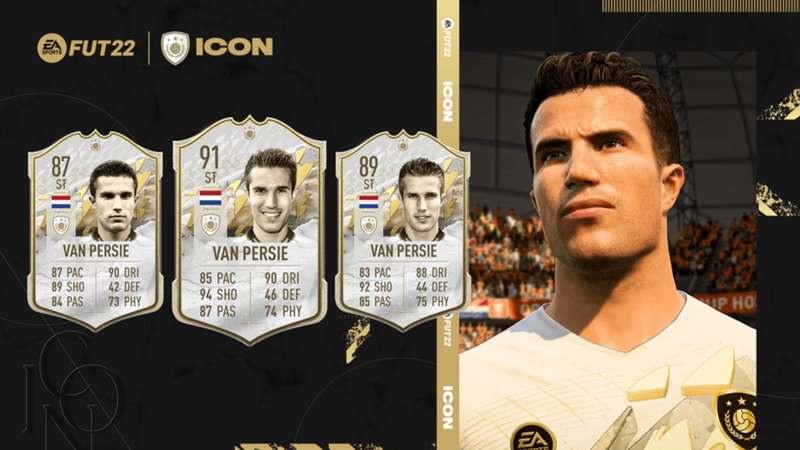 Ultimate Team
The last few months of FIFA 21 Ultimate Team saw the addition of preview packs which allowed gamers to see the contents of packs before buying them on the store.
This is thought to take away the gambling aspect of Ultimate Team and make Store purchases more like downloadable in-game purchases than a game of chance, and thus avoid gambling legislation in certain countries.
As a result, there is a good chance these preview packs will be kept as a gameplay element in FIFA 22 Ultimate Team.
Volta
FIFA's street football mode Volta has had continual updates such as players, clothing and items during the year and these will continue in FIFA 22.
New players, stadiums, locations and merchandise will be added for FIFA 22 as well as a new story mode.
Will VAR be in FIFA 22?
The introduction of the Video Assistant Referee (VAR) is the biggest change to football in the modern era, with contentious decisions and moments now up for review.
Despite first being rolled out in 2017, VAR was not feature of FIFA 21, and this is likely to continue with FIFA 22.
Official leagues & clubs
Since FIFA 20 Juventus are known as Piemonte Calcio, and EA Sports has lost more licenses to Pro Evolution Soccer in recent years.
PES recently acquired the license to Serie A side Atalanta, meaning EA Sports will not be able to use their proper name for the next three years, starting with FIFA 22.
Napoli and Roma have also signed exclusive deals with PES, which will surely disappoint fans of these Italian clubs.
New teams on the game include APOEL, Ferencvarios, Welsh side Wrexham – now owned by Hollywood actors Ryan Reynolds and Rob McElhenney – and Hajduk Split.
Female players on Pro Clubs
EA Sports revealed in August that female pros can be created on FIFA 22, with the update coming to the Pro Clubs game mode.
As well as that, Player Growth will be improved and Player Archetypes will also be part of the new game.
Who is on the cover of FIFA 22?
Kylian Mbappe has been confirmed as the cover star of FIFA 22.

The France and Paris Saint-Germain star was the face of FIFA 21 and will continue in the new edition after it was confirmed by EA Sports on July 9.
In previous years, Eden Hazard, Virgil van Dijk, Cristiano Ronaldo, Neymar, Kevin De Bruyne and Paulo Dybala have also appeared on the game cover.
Konami's deal with Juventus means Ronaldo will not return to the cover of FIFA for the foreseeable future.
Who are the FIFA 22 top rated players?
Lionel Messi is the best player in FIFA 22 again with EA Sports confirming that he has a rating of 93 on the new game.
Robert Lewandowski is the second highest-rated player in FIFA 22 with a rating of 92 and the Bayern Munich striker is followed by Cristiano Ronaldo, Kylian Mbappe, Neymar, Jan Oblak and Kevin De Bruyne, who are all rated 91.
Mbappe revealed his new 91 overall rating at the beginning of September and the remainder of the FIFA 22 ratings are expected to be rolled out in mid September.
| Rank | Player | Position | FIFA 22 rating |
| --- | --- | --- | --- |
| 1 | Lionel Messi | RW | 93 |
| 2 | Robert Lewandowski | ST | 92 |
| =3 | Cristiano Ronaldo | ST | 91 |
| =3 | Kevin De Bruyne | CM | 91 |
| =3 | Kylian Mbappe | ST | 91 |
| =3 | Neymar | LW | 91 |
| =3 | Jan Oblak | GK | 91 |
| =8 | Harry Kane | ST | 90 |
| =8 | N'Golo Kante | CDM | 90 |
| =8 | Manuel Neuer | GK | 90 |
| =8 | Marc-Andre ter Stegen | GK | 90 |
WhatsApp Job & Scholarship Alert
To get daily Job and Scholarship Alerts on Whatsapp, Join Our WhatsApp Group via the link below.
NOTE: PLEASE IF YOU'RE ON ANY OF OUR WHATSAPP GROUPS, DON'T JOIN THIS ONE
CLICK HERE TO JOIN WHATSAPP GROUP
Take Note
UNDER NO CIRCUMSTANCE SHOULD AN APPLICANT PAY MONEY TO ANYONE IN GETTING A JOB WE HAVE PUBLISHED